Time to Service Your Generator?
If you're experiencing downtime with your generator, don't hesitate to get in contact with our team. Our technicians are ready to assist you with engine repairs, hydraulic pump, motor diagnostics, and general generator repair service to get you back up-and-running as quickly as possible. Servicing a generator takes a professional's touch. Whether it be smaller portable generator servicing or larger diesel generator servicing, we're ready to help. 
If you have an older generator, then it is better to consider a generator service by one of our Brisbane based generator repair technicians. Regular generator servicing and maintenance will prolong its life and reduce the risk of unexpected downtime. What separates ESM from what else is on the market is our dedication to ensuring our clients are geared with the best tools for them, with on-going support to ensure their productivity is at an all-time high.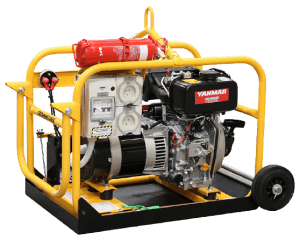 We have spare parts in stock
If you've searched for "portable generator servicing near me", you've come to the right place. The servicing of a generator is a a tricky task and attempting to conduct a repair without the necessary training can lead to a variety of ramifications. 
You shouldn't need to rely on the manufacturer for equipment servicing and repairs. We have a team of equipment services technicians, expert engineers and mechanics awaiting your call. We'll get back to you ASAP and get you back out in the field.
Available Brands for a Generator Service:
This means less downtime, less frustration and less
lost earnings due to a fast-paced generator service and repair near me. 
GENERATOR SERVICE AND MAINTENANCE
We built this business on the foundation that the customer should only need to call us once, tell our generator service center your problem and we'll take care of everything after that. We collected equipment from site, repaired the equipment and returned the equipment in very quick time. If you've had no luck with previous generator servicing companies, we're at your service.
If you're searching for a generator service technician companies near me, we'll deploy an industry leading generators repair service to get you and your business back into gear. No matter what your situation is, we've got you covered. 
We're experts in supplying, servicing and repairing an extremely wide range of products for Civil, Construction & Hire industries. Call us now and we'll send out a generator service technician that's right for you.